Impressions
out of the Cube 5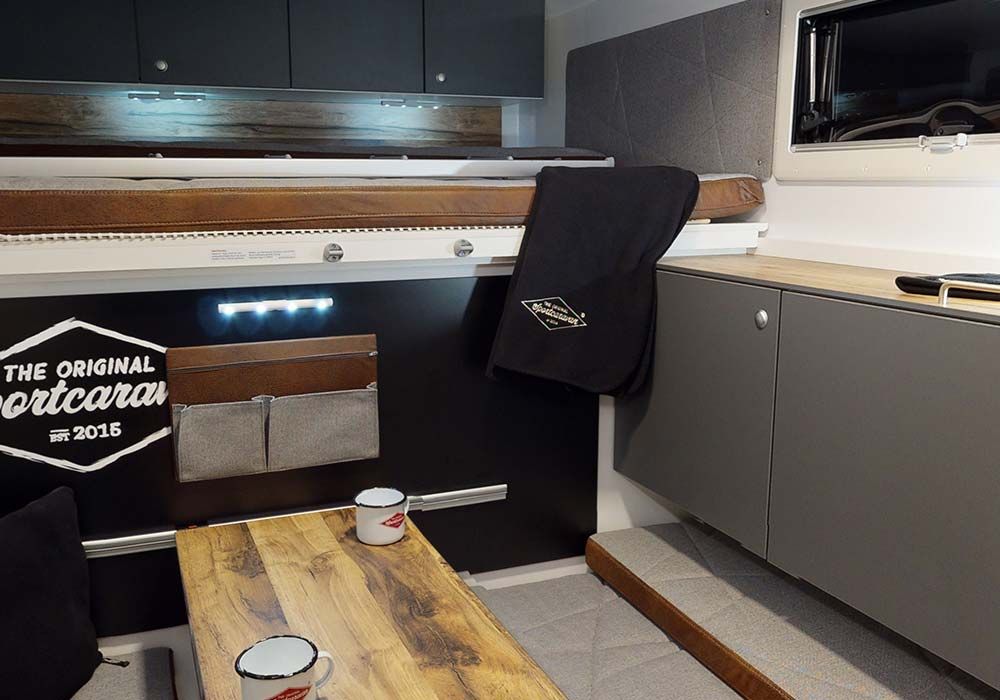 Changes reserved, figures show also parts of special equipment, figures are not to scale, dimensions and weightings are approximate indications; without motor bikes. All prices include 19% VAT.
Are outdoor adventures exactly your thing? Do you want to stay independent while traveling and always have your sports equipment with you? Our caravan "The Cube 5" makes your dreams come true: Regardless of whether you like to ride a motorcycle, jet ski, canoe or bike as a hobby - we at the brand "The Original Sportcaravan" have created a fully equipped caravan that has enough space to offer for these devices and comfortable living space at the same time. Take your hobby with you on your travels and give your camping trips a whole new meaning!
The ideal caravan for your caravaning experience
The 2021 model of our caravan is the safe and comfortable accommodation for you and your companion, the whole family or your best friends with their sports equipment. The lifestyle trend "sport caravaning" is the new way of traveling on vacation or for a short weekend. There is almost nothing that does not fit in the large caravan: E-bikes, bicycles, paddle boards, your diving equipment or even a drum kit - everything is there and is always well stowed away and protected from weather and theft.
A look inside reveals that our caravan is a special model: The trailer consists of the odourless garage, right next to it is your separate space for living and sleeping. This is what awaits you in your caravan:
Sleeps 4 people
Seating group for 4 people with storage space
Bathroom with shower and toilet
Kitchen with sink, refrigerator and induction hob
Integrated heating
Caravan with style and comfort
It is not for nothing that our caravan has already received several awards: with the German Design Award, the German Innovation Award and the Automotive Brand Contest. With this model you get a camper that focuses on adventure and your hobbies with attention to detail. Our caravans come from real craftsmanship and are completely built in Germany.
The Cube 5 also takes on the advantages of a classic caravan and expands them with a large portion of fun: Now you can easily discover the world with friends and family in your free time and take your hobby with you to any place. On the way you decide spontaneously whether you want to spend the night on a campsite or perhaps in the middle of nature. In any case, things can go on quickly: you can easily attach your caravan to your vehicle - the streets are yours.
Equip your caravan with great extras
We expand your sports caravan so that it fits you perfectly! You have the option of equipping the trailer with a large selection of extras at a fair price: for example, with an awning. It offers protection from the sun and rain and ensures relaxed moments. Incidentally, the total permissible total weight of the vehicle is 2,200 kilograms, but you can easily book an additional or reduced load. Motorcycle fans also often opt for an additional front wheel clamp or a motorcycle loading system. Take a look around our extras and discover what is right for you and your motorhome. Didn't find a certain accessory? Let us know, we will do our best to organize the equipment you want for your caravan.
Experience sports caravanning in a special way
Find out for yourself which offer suits you and start your unforgettable camping trip! A little tip: You can take a look at the caravan online at any time in our virtual tour. If you are looking for a smaller caravan, you should definitely take a look at the Cube 4. As a direct manufacturer and dealer, you can buy, rent or finance both caravan models from us. "Take what you want with you" is the motto: We wish you already a lot of fun with your Sportcaravan!