Impressions
out of the Cube 4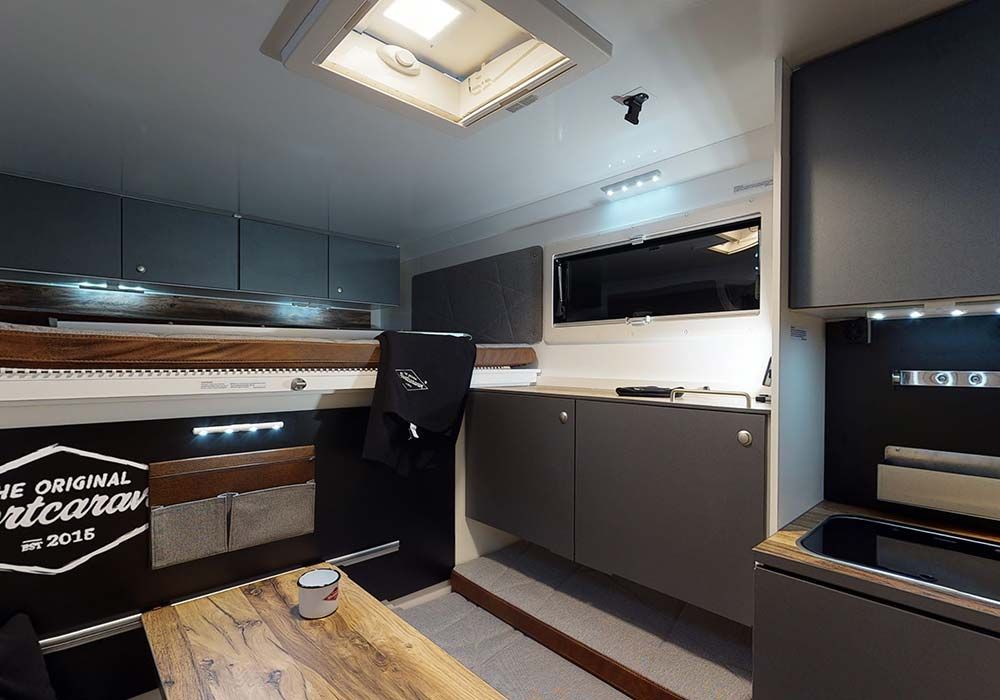 Changes reserved, figures show also parts of special equipment, figures are not to scale, dimensions and weightings are approximate indications; without motor bikes. All prices include 19% VAT.
Travel, Fun & Freedom: That embodies "The Cube 4", our sports caravan with recognition value. If you are a real sports fan and don't want to miss out on your equipment when traveling, this caravan is just right for you. There is a garage space for sports and leisure equipment of all kinds: from motorcycles, bicycles, and jet skis to canoes and drums, everything is allowed in the caravan. Your new caravan not only cuts a good figure as a transporter, but is also equipped with comfortable living and sleeping places. With this caravan from our brand "The Original Sportcaravan" you simply take your hobby with you and go on an outdoor holiday according to your ideas!
"The Cube 4": No ordinary caravan
With the 2021 model of our caravan, you get a trailer in the optimized version: Among other things, the offer includes more sophisticated technology such as an insulated floor in the living area and a larger cool box for more refreshing drinks. Cheers! With this caravan you can go on vacation with your friends or the whole family and enjoy life to the fullest - including hobby equipment!
Although everything is reduced to the bare essentials in this better version of a caravan, you won't be missing anything. For your new camper, with our caravanning brand, we attach great importance to the attention to detail - you can look forward to this high-quality equipment, among other things:
Sleeps 4 people
Seating group for 4 people
WC
Kitchen with sink, cool box and hob
heater
Out and about with style and safety
Did you know that the caravan was awarded the German Design Award 2019, among other things? The combination of transport and living solution was praised, which is also impressive in terms of design. With enthusiastic sports fans, the caravan, which is not one, scores points with its high level of safety: Caravans are usually excessively loaded, which can cause the caravan to sway, especially in the fast lane. Thanks to the specially arranged axles, the Cube 4 offers a perfect solution that impresses with its extreme directional stability.
Our caravans set an example of what a mixture of design, comfort and safety can look like. At the same time, we make you as the manufacturer a real promise of quality with your purchase: Our caravan models are built in Germany and stand for real craftsmanship. No matter where you take your trendy panel van in your free time - you have the chance to experience the world in your own way.
The right accessories for your caravan
Would you like to spice up your caravan with a few extras? No problem! We at "The Original Sportcaravan" offer you the opportunity to choose suitable accessories and to design the caravan according to your ideas: everything is possible, from increasing the load weight, attaching an awning to laying a carpet.
Get an overview of our selection of great extras in advance and configure your caravan according to your mood. Are you missing a certain accessory? Talk to us about it, we will try to adapt the vehicle to your wishes.
Pure action on four wheels
Now you have the choice: You can decide whether you want to buy, finance or rent your Sportcaravan, fair price guaranteed. With the Cube 4, discover what it means to take your hobby with you when you travel and ensure unforgettable moments with friends and family.
If you prefer a larger model for camping, you definitely shouldn't miss the
Cube 5:
This caravan is
a little longer and even has an integrated shower
. "Take what you want with you" is the motto. Whether canoe, motorcycle or e-bike - no passion is neglected here. We wish you a lot of fun and adrenaline with your new camper.